One of the biggest headaches for projects is the management of incoming and outbound correspondence. A number of complex systems already exist to help users control the consistent generation and filing of letters, faxes and memos - but most of them suffer from two disadvantages:

1) They are too onerous - forcing users to battle through a number of forms and screens, and upload procedures whenever they want to save a wordprocessed document.

2) They rely on a substantial 'back-end' database such as MS SQL Server- ruling them out from a cost and management perspective on most small or medium projects.

Finedata has developed InTouchPro to fill the need for a system which is easy to learn, easy to use and can not only cope with the management of correspondence - but actually provide 'Value Added' functionality to hard pressed project personnel.

InTouchPro is another Lost-Cost, High-Performance system from the proven range by Finedata.

Like all Finedata applications, InTouchPro is designed to run on relatively low specification equipment and is scalable. You can start a project from a laptop in the back of a van, move to an office with a small network and then, as the project runs down, either return to head office for archiving - or back to the van with the laptop.

InTouchPro allows users to develop lists of companies (or organisations) they are working with - and contacts at those companies. Using these contact lists (each of whom can share the organistaions address and telephone details, or have their own), InTouchPro allows the user to create correspondence from simple templates and files them in a straightforward folder structure. This fulfills the need for thinking 'File for Archive' which is so often overlooked during the day to day operations of a busy project.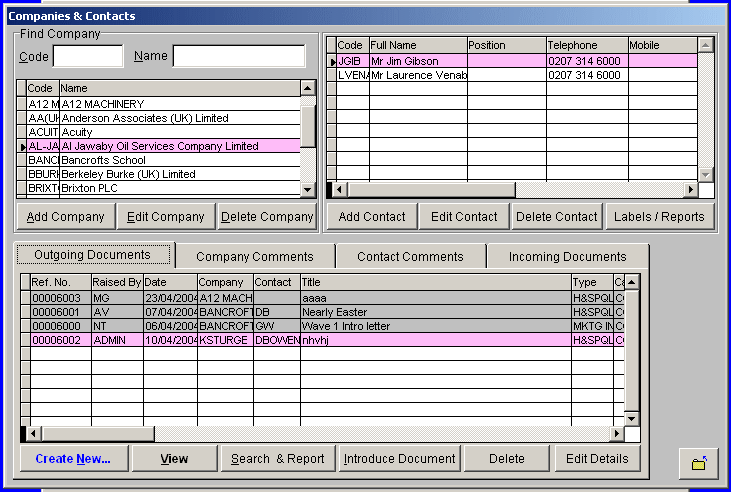 InTouchPro also helps with incoming documents - allowing them to be scanned and recorded in the same simple folder structure. Each document can also be given a 'Rubber Stamp' distribution - closely matching the way paper documents are circulated - recipients can view the documents on-line, mark them as dealtwith and pass comment on them.

For further information please contact Martin Griffin.

E-Mail: Martin.Griffin@Finedata.com

---